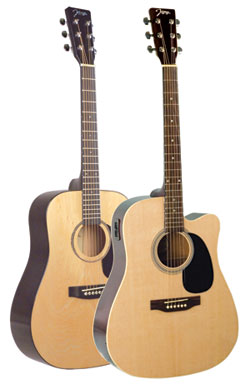 JOHNSON PRESENTS THE 615 PLAYER SERIES ACOUSTIC GUITAR, THE BEST SOUNDING SOLID-TOP IN ITS CLASS!
---
Johnson introduces the 615 Player Series, the only solid-top in its price category. Offering guitarists an unparalleled combination of features and value, Johnson continues to make playable guitars that are affordable for everyone.
The 615 Player series dreadnought has a solid spruce top, a bound rosewood fretboard and die-cast tuners. It is also available with a gloss black finish or in a dreadnought cutaway with a pickup.
With consistent quality and attention to detail, Johnson stands apart from other guitar builders by giving players an excellent value at a price they can appreciate. For a street price of less than $150, guitarists can have a guitar that is comfortable to play, stays in tune, and looks great. The solid spruce top is a feature usually found only on higher-priced guitars, and gives the 615 Player Series an openness of tone and resonance similar to guitars twice as expensive. Well intonated with a straight neck, a properly positioned saddle, and without sharp fret ends, the Player Series 615 is perfect for an open mic, a house party or just for jamming with friends.
The 615 Player Series dreadnought has a MAP of $119.99 and is also available in a dreadnought cutaway with pickup at a MAP of $149.99.
Johnson is the builder of quality acoustic and electric guitars and basses. For more information on Johnson products, visit johnsongtr.com.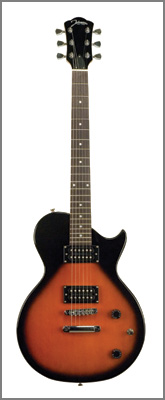 JOHNSON RELEASES THE SINGLE CUTAWAY SOLARA SPECIAL
---
Johnson is excited to release the single-cutaway, dual-humbucker Solara Special, a great-sounding, great looking guitar perfect for beginners or entry-level players.
With a solid basswood body and bolt-on maple neck with satin finish, the Solara Special begins with the essential ingredients for an entry-level rocker. The dual open-coil humbuckers deliver a fat, crunchy sound in either the neck or bridge position, and the single volume and tone controls give this guitar the casual simplicity of an instrument that can rock in any situation, and at any volume.
The deep treble side cutaway allows easy access to the upper frets, and the nickel fretwire on the classic rosewood fretboard is finished with no rough edges for smooth, comfortable playing.
If you're a player on a budget who has always wanted the sound of dual humbuckers on a single cutaway body, but were afraid that a low-priced guitar could never play well, the Solara Special is the guitar you've been waiting for. A true budget rocker, the Solara Special lists for
$199.99 and is available in both gloss black and sunburst finishes.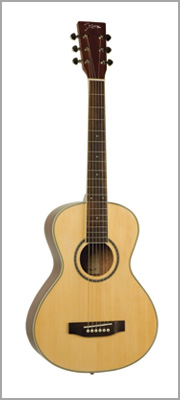 JOHNSON INTRODUCES THE TRAILBLAZER DELUXE TRAVEL GUITAR LIST $249.99 / AVAILABLE NOW
---
Just in time for one last road trip to finish your summer, Johnson proudly brings you the solid spruce top Trailblazer Deluxe travel guitar.
The Trailblazer Deluxe makes it easy to sound great anywhere. With the classic, natural sound you can only get from solid spruce in a portable package, this guitar is ready to go wherever the muse takes you. With a full-size 24-3/4" scale length, the Trailblazer Deluxe gives players the same comfort and playability as a full-size dreadnought, but in a travel-friendly package.
With 22 frets and a rosewood fretboard, the Trailblazer Deluxe has a familiar feel, like that of a standard sized guitar neck. Many players may have avoided choosing a travel guitar because of their concern that travel guitars, with smaller body shapes often sound thin with very little bass. Thanks to the Trailblazer's carefully designed body, solid spruce top, mahogany sides and arched mahogany back, the Trailblazer Deluxe gives players on-the-go the same robust, warm sound as a traditional dreadnought.
The Johnson Trailblazer Deluxe comes complete with its own carrying bag, so players will be ready to travel with it anywhere easily and comfortably.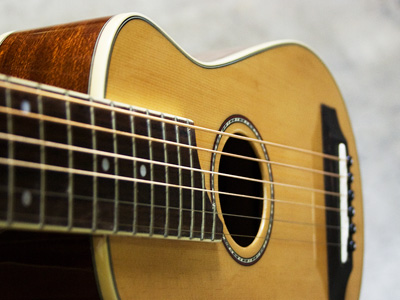 CLASSIC TRAVEL GUITAR NOW AVAILABLE IN LEFT-HANDED!
---
The popular Johnson travel guitar is now available with a left-handed design to meet the needs of all southpaw players.
The new left-handed Trailblazer (JG-TR1-L) guitar is truly the traveler's dream with its small-scale design and great look.
It features a spruce top and mahogany back, sides and neck, die-cast tuners, 22-fret fingerboard and Martin strings. It also features a 24-3/4" scale length.
The Trailblazer boasts features you wouldn't expect to find on a travel guitar, such as neck and body binding and full-size frets. Whether you're camping, hiking, or just taking a quick road trip, the Trailblazer is the perfect companion for your odyssey.
The left-handed Trailblazer has a list price of $139.99 and includes a custom carrying bag. Johnson, a division of The Music Link, is a leading manufacturer of premium musical instruments.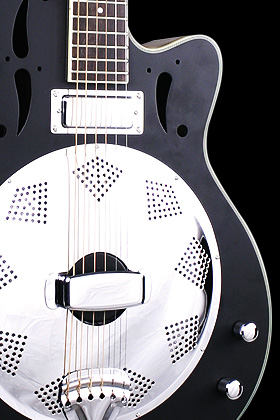 NEW SWAMP STOMPER RESONATOR HAS A CUTAWAY BODY, PICKUP & MORE
---
Johnson introduces a new wood body resonator with a single coil pickup, cutaway design and a crisp, clear tone.
The Johnson Swamp Stomper (JR-520-CEBM) fuses a vintage triolian resophonic with a modern electric guitar to create a bluesy tone that's straight from the bayou.
The resonator has a 9.5" hand-spun aluminum cone designed for maximum volume, a mahogany body, a maple biscuit bridge, a single cutaway design, vintage cream body binding and a pickup with volume and tone controls. The resonator comes with a black matte finish that looks great for blues and country playing.
The Swamp Stomper has incredible projection that's maximized when plugged. The single cutaway design is excellent for blues solos and smooth slide playing.
The new resonator has a list price of $439.98 and is available now. Johnson, a division of The Music Link, is a leading manufacturer of premium musical instruments.